Good News In Parks! Season 3 | Register for the next 3 Episodes (July-September)!
Register

Prices available after logging in
Register now for the next 3 events (July - September) at once!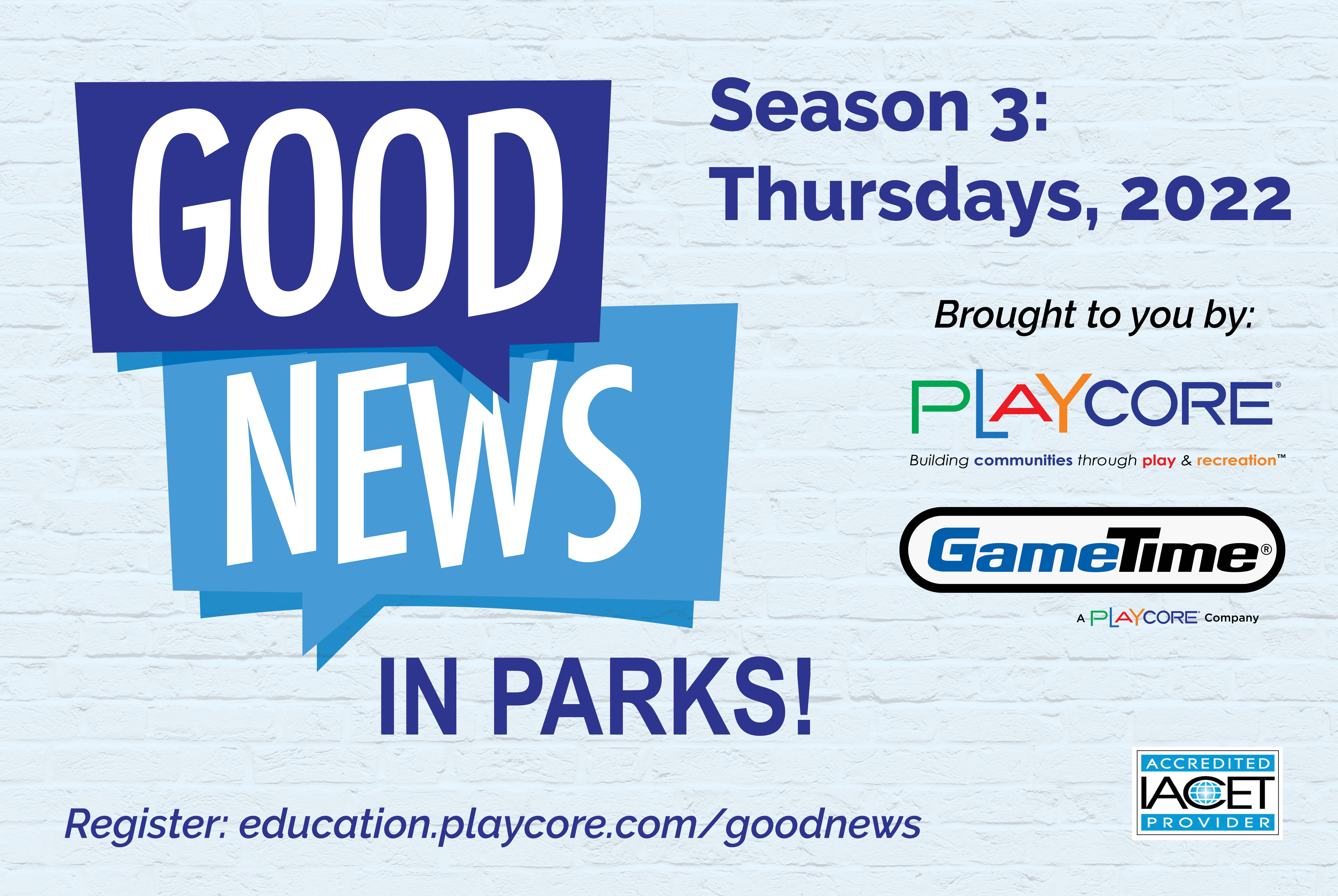 To share the great work in Parks and Recreation agencies, join us for Good News, a monthly, interactive Zoom show where leading park and recreation professionals will share best practices that inform their work and the resulting positive impacts on communities.
Contains 3 Component(s), Includes Credits

Includes a Live Web Event on 07/14/2022 at 1:00 PM (EDT)

To share the great work in Parks and Recreation agencies, join us for Good News, a monthly, interactive Zoom show where leading park and recreation professionals will share best practices that inform their work and the resulting positive impacts on communities.

Description

Good News: In Parks! is a show for parks and recreation professionals by parks and recreation professionals. Join us for an exciting season 3 where leading local leaders discuss wins and challenges and creative ways they have overcome these challenges. They are here to share their learned best practices with you, so bring your coffee, your questions for the Q&A, and enjoy this live broadcast full of only Good News!

Learning Objectives

Identify relevant park and recreation essential services offered during these ever-changing times.
Describe innovative strategies that park directors are utilizing to react to challenges and community needs.
Discuss collaborative partnerships and/or leadership examples for the administration of facilities and programs that demonstrate success and resiliency.




More About the Session

Given our mission to make communities better places to live, learn, work and play, park and recreation agencies are in a unique position to champion efforts that advance diversity, equity and inclusion. According to a 2021 NRPA report on equity, one in three park and recreation agencies have established formalized DEI activities, while the rest are still determining best ways to do so. During this episode, we'll hear from leaders in the field on how they are working toward more equitable communities, and welcome questions from agencies wanting to learn more about implementing meaningful DEI policies and programs.

Jonathan Jones

Commissioner

City of Albany, NY / Parks and Recreation Department

$i++ ?>

Autumn Saxton-Ross, PhD

Vice President of Education and Chief Equity Officer

National Recreation and Park Association

$i++ ?>

LaReina Wheeler

Director

City of Ferndale, MI / Parks and Recreation Department

$i++ ?>

Anne-Marie Spencer (Moderator)

Corporate Vice President of Marketing and Communications

PlayCore

Anne-Marie joined the PlayCore team in 2002, and is responsible for corporate marketing, communications and special project development for PlayCore, as well as serving as the company spokesperson and coordinator for all brand efforts, including advertising, promotion, trade show design, and external/internal communications. Anne-Marie is committed to building communities through play and recreation by motivating the marketing teams with creativity and encouragement, serving on the Board of Directors at the Chambliss Center for Children.




Anne-Marie is a competitive obstacle course racer, and says "I love the variety, we carry and throw heavy objects, swing from our hands, throw spears, and scale high walls. It allows me to test my fitness and become a more well-rounded athlete and person."

$i++ ?>

Jodie Adams (Moderator)

Parks Director Emeritus, Past President NRPA BOD

Brio 2 Solutions

Jodie Adams possesses 37 years of Administrative experience in the Parks and Recreation profession. She retired as the Director of Parks, Springfield-Greene County Park Board, serving from January 2006 – November 2011. In this position she was responsible for a 34 million dollar budget, 102 Parks and Trails, 1000 Program/Events and 40 Facilities which included a Zoo and Botanical Center. As a longtime member of NRPA, she served on the NRPA Board of Directors for eight years and served as the President from 2009-2010. Adams is also a Fellow member of the American Academy of Parks and Recreation Administration and is a Certified Parks and Recreation Professional (CPRP).




Since retirement Jodie continues to be involved with the profession. She is the co-founder of Brio 2 Solutions, Inc. She retired for a second time as a Faculty Emeritus member of Missouri State University where she taught for the past 10 years from 2011-2021. Adams is also a Fellow member of the American Academy of Parks and Recreation Administration and is a Certified Parks and Recreation Professional (CPRP).


$i++ ?>

This session will offer the following credits:



0.1 IACET CEU




CEUs for a total of 1 Professional Development Hours (0.1 IACET CEU) will be provided to learners meeting the following requirements:

Be present for 95% of the duration of the learning event;
Participate in activities and discussion throughout;
Complete assessment with 80% mastery of learning outcome;

Complete feedback survey.





To obtain your CEU, please visit the "contents" tab above to complete the associated survey for this webinar.

Instructor(s) Disclosures:

The instructors of this training webinar are employed by PlayCore and disclose an interest in attendees partnering with PlayCore on their play and recreation initiatives.




Speakers Disclosures:

The opinions of the speakers in these events do not necessarily reflect the views of PlayCore and its brands.




Notes:

For any questions or to request a copy of the written transcript for this session, please contact core@playcore.com

Contains 3 Component(s), Includes Credits

Includes a Live Web Event on 08/11/2022 at 1:00 PM (EDT)

To share the great work in Parks and Recreation agencies, join us for Good News, a monthly, interactive Zoom show where leading park and recreation professionals will share best practices that inform their work and the resulting positive impacts on communities.

Description

Good News: In Parks! is a show for parks and recreation professionals by parks and recreation professionals. Join us for an exciting season 3 where leading local leaders discuss wins and challenges and creative ways they have overcome these challenges. They are here to share their learned best practices with you, so bring your coffee, your questions for the Q&A, and enjoy this live broadcast full of only Good News!

Learning objectives

Identify relevant park and recreation essential services offered during these ever-changing times.
Describe innovative strategies that park directors are utilizing to react to challenges and community needs.
Discuss collaborative partnerships and/or leadership examples for the administration of facilities and programs that demonstrate success and resiliency.




More About the Session

Park departments are full of innovation. Whether forming community partnerships, advancing equity, creating new programs and services, or serving the community in unique ways, parks and recreation inspire us every day. In this episode, meet change makers who are advancing local initiatives and inspiring national change.

Anne-Marie Spencer (Moderator)

Corporate Vice President of Marketing and Communications

PlayCore

Anne-Marie joined the PlayCore team in 2002, and is responsible for corporate marketing, communications and special project development for PlayCore, as well as serving as the company spokesperson and coordinator for all brand efforts, including advertising, promotion, trade show design, and external/internal communications. Anne-Marie is committed to building communities through play and recreation by motivating the marketing teams with creativity and encouragement, serving on the Board of Directors at the Chambliss Center for Children.




Anne-Marie is a competitive obstacle course racer, and says "I love the variety, we carry and throw heavy objects, swing from our hands, throw spears, and scale high walls. It allows me to test my fitness and become a more well-rounded athlete and person."

$i++ ?>

Jodie Adams (Moderator)

Parks Director Emeritus, Past President NRPA BOD

Brio 2 Solutions

Jodie Adams possesses 37 years of Administrative experience in the Parks and Recreation profession. She retired as the Director of Parks, Springfield-Greene County Park Board, serving from January 2006 – November 2011. In this position she was responsible for a 34 million dollar budget, 102 Parks and Trails, 1000 Program/Events and 40 Facilities which included a Zoo and Botanical Center. As a longtime member of NRPA, she served on the NRPA Board of Directors for eight years and served as the President from 2009-2010. Adams is also a Fellow member of the American Academy of Parks and Recreation Administration and is a Certified Parks and Recreation Professional (CPRP).




Since retirement Jodie continues to be involved with the profession. She is the co-founder of Brio 2 Solutions, Inc. She retired for a second time as a Faculty Emeritus member of Missouri State University where she taught for the past 10 years from 2011-2021. Adams is also a Fellow member of the American Academy of Parks and Recreation Administration and is a Certified Parks and Recreation Professional (CPRP).


$i++ ?>

This session will offer the following credits:



0.1 IACET CEU




CEUs for a total of 1 Professional Development Hours (0.1 IACET CEU) will be provided to learners meeting the following requirements:

Be present for 95% of the duration of the learning event;
Participate in activities and discussion throughout;
Complete assessment with 80% mastery of learning outcome;

Complete feedback survey.





To obtain your CEU, please visit the "contents" tab above to complete the associated survey for this webinar.

Instructor(s) Disclosures:

The instructors of this training webinar are employed by PlayCore and disclose an interest in attendees partnering with PlayCore on their play and recreation initiatives.




Speakers Disclosures:

The opinions of the speakers in these events do not necessarily reflect the views of PlayCore and its brands.




Notes:

For any questions or to request a copy of the written transcript for this session, please contact core@playcore.com

Contains 3 Component(s), Includes Credits

Includes a Live Web Event on 09/15/2022 at 1:00 PM (EDT)

To share the great work in Parks and Recreation agencies, join us for Good News, a monthly, interactive Zoom show where leading park and recreation professionals will share best practices that inform their work and the resulting positive impacts on communities.

Description

Good News: In Parks! is a show for parks and recreation professionals by parks and recreation professionals. Join us for an exciting season 3 where leading local leaders discuss wins and challenges and creative ways they have overcome these challenges. They are here to share their learned best practices with you, so bring your coffee, your questions for the Q&A, and enjoy this live broadcast full of only Good News!

Learning Objectives

Identify relevant park and recreation essential services offered during these ever-changing times.
Describe innovative strategies that park directors are utilizing to react to challenges and community needs.
Discuss collaborative partnerships and/or leadership examples for the administration of facilities and programs that demonstrate success and resiliency.




More About the Session

Communities are places of rich history and activity, and park departments are active catalysts in preserving and honoring what makes them unique. We'll hear from community champions whose efforts and work are models for others to emulate as they go beyond the expected to make a powerful difference to honor local spirit and/or history.

Anne-Marie Spencer (Moderator)

Corporate Vice President of Marketing and Communications

PlayCore

Anne-Marie joined the PlayCore team in 2002, and is responsible for corporate marketing, communications and special project development for PlayCore, as well as serving as the company spokesperson and coordinator for all brand efforts, including advertising, promotion, trade show design, and external/internal communications. Anne-Marie is committed to building communities through play and recreation by motivating the marketing teams with creativity and encouragement, serving on the Board of Directors at the Chambliss Center for Children.




Anne-Marie is a competitive obstacle course racer, and says "I love the variety, we carry and throw heavy objects, swing from our hands, throw spears, and scale high walls. It allows me to test my fitness and become a more well-rounded athlete and person."

$i++ ?>

Jodie Adams (Moderator)

Parks Director Emeritus, Past President NRPA BOD

Brio 2 Solutions

Jodie Adams possesses 37 years of Administrative experience in the Parks and Recreation profession. She retired as the Director of Parks, Springfield-Greene County Park Board, serving from January 2006 – November 2011. In this position she was responsible for a 34 million dollar budget, 102 Parks and Trails, 1000 Program/Events and 40 Facilities which included a Zoo and Botanical Center. As a longtime member of NRPA, she served on the NRPA Board of Directors for eight years and served as the President from 2009-2010. Adams is also a Fellow member of the American Academy of Parks and Recreation Administration and is a Certified Parks and Recreation Professional (CPRP).




Since retirement Jodie continues to be involved with the profession. She is the co-founder of Brio 2 Solutions, Inc. She retired for a second time as a Faculty Emeritus member of Missouri State University where she taught for the past 10 years from 2011-2021. Adams is also a Fellow member of the American Academy of Parks and Recreation Administration and is a Certified Parks and Recreation Professional (CPRP).


$i++ ?>

This session will offer the following credits:



0.1 IACET CEU




CEUs for a total of 1 Professional Development Hours (0.1 IACET CEU) will be provided to learners meeting the following requirements:

Be present for 95% of the duration of the learning event;
Participate in activities and discussion throughout;
Complete assessment with 80% mastery of learning outcome;

Complete feedback survey.





To obtain your CEU, please visit the "contents" tab above to complete the associated survey for this webinar.

Instructor(s) Disclosures:

The instructors of this training webinar are employed by PlayCore and disclose an interest in attendees partnering with PlayCore on their play and recreation initiatives.




Speakers Disclosures:

The opinions of the speakers in these events do not necessarily reflect the views of PlayCore and its brands.




Notes:

For any questions or to request a copy of the written transcript for this session, please contact core@playcore.com